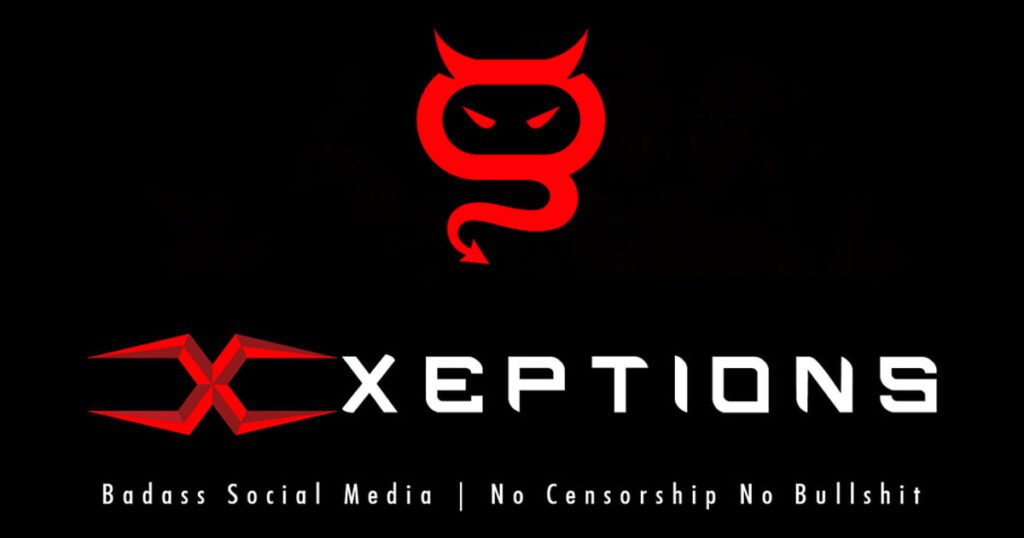 Welcome to Xeptions! Please Login Here!
NO CENSORSHIP! NO BULLSHIT!
Frustrated with mass social media abusive censorship? Join Xeptions now and create your free profile on the number one Badass Social media for free-thinkers and open-minded adults! You deserve No Censorship and No Bullshit!
As we are more and more connected to our devices. Our social life is now often happening online. Here, you can freely have both of the best worlds all together under one roof, without the risk of unwanted people, kids, and employers ending by mistakes on your profiles and pictures. Here you'll be able to share your thoughts, your sexuality and your kinks without restrictions, censorship or judgment, with the respect of every member of the X-Community.
As you know, social media are an integral part of today's life online. There are now more and more people connecting via apps and websites than ever before. We, the humans, need Social interactions in our lives. Having a sense of belonging to a community is crucial in order to be happy.
Our motivation has always been to provide open-minded and consenting humans with the opportunity of belonging to a censorship-free community, connecting them together by allowing them to share what they can't on mass social media bringing more freedom to their lives. By creating this community, we are giving you the power to connect and interact with more free-thinkers who have the same philosophy about life by sharing content freely without being judged.
Our philosophy is focused on connecting people with similar interests, sharing what they are all about without censorship. When joining this community, you must keep in mind that we are all about respect. We want all our members to treat each other's in a respectful way, away from judgment, discrimination, and bad vibes, towards acceptance and oneness…
CONSENTING ADULTS CONTENT
We live in a society where people expressing certain subjects, opinions and sexuality are treated as second-class citizens. Although no causal link between exposure to sexually explicit material has ever been scientifically established, despite many efforts to do so. Rather, the government has allowed censorship on moral grounds a sad remnant of our nation's Puritan heritage.
Today's calls for censorship are not motivated solely by morality and taste, but also by the widespread belief that exposure to sexually explicit images causes people to act in destructive ways. Pro-censorship forces, including many politicians, often cite a multitude of "scientific studies" to allegedly prove fictionally their point.
As Free Thinkers, we strongly believe in and seek a world of liberty: a world in which all individuals are sovereign over their own lives and are not forced to sacrifice their values for the benefit of others. We believe that respect for individual rights is the essential precondition for a free and prosperous world.
Consequently, since we are between consenting adults, we defend our community member's right to engage in any adult activity that is legal, peaceful and honest.
Adults own their minds & their bodies and have rights over them that other individuals, groups, and governments may not violate. Individuals have the freedom and responsibility to decide what they knowingly and voluntarily desire to consume and share.
We support full freedom of expression and oppose government censorship, regulation, or control of communications media and technology. We welcome the diversity that freedom brings. The world we seek to build is one where consenting adult is free to follow their own dreams in their own ways, without censorship.
CONSUME AND SHARE FREELY WITHOUT CENSORSHIP
Sharing your own awesome unique content without censorship will make you receive a lot of attention, comments, and propositions.
See what you want to see or read, from sexy to explicit pictures and videos. Whether you are looking for virtual or in-real-life relationships or friendships, Xeptions will always be open for you to share everything you want. Therefore, all kind of content is accepted without judgment or discrimination, as long as it remains legal.
We at Xeptions, strongly believe the only place we can find freedom is within ourselves. There's always a positive side to everything,
PERSONAL IDENTIFICATION INFORMATION
We may collect personal identification information from Users in a variety of ways in connection with activities, services, features or resources we make available on our Site Users may visit our Site anonymously. We will collect personal identification information from Users only if they voluntarily submit such information to us. Users can always refuse to supply personally identification information, except that it may prevent them from engaging in certain Site related activities.
Xeptions comply with the Personal Information Protection and Electronic Documents Act (PIPEDA) which requires us to provide this policy to you upon request.
CONTACTING US
If you have any questions about this Privacy Policy, the practices of this site, or your dealings with this site, please contact us at support@xeptions.com, and we'll be happy to answer any questions you might have!
Please take some time to read our Terms and Conditions & Privacy Policy, as all Xeptionss properties, Products, and Services are offered subject to these Terms and Conditions. If after reading this you feel that you want to join our exclusive and unique censorship-free adult-only community go to the register page and create your badass profile and Join Xeptions Today!
REGISTRATION IMPORTANT INFORMATION
Following your registration, you will receive a validation e-mail. It is mandatory to reply to this e-mail in order to activate your profile. If you think you haven't received this e-mail, please verify your spam folder. If you are certain that you haven't received the validation e-mail please do not hesitate to contact us at: support@xeptions.com
All persons under the age of 18 are strictly prohibited from accessing or viewing the contents of this site.
If you have any additional questions please feel free to visit our FAQ page: https://www.xeptions.com/x-faq-help/
This document was last updated on April 9th, 2022