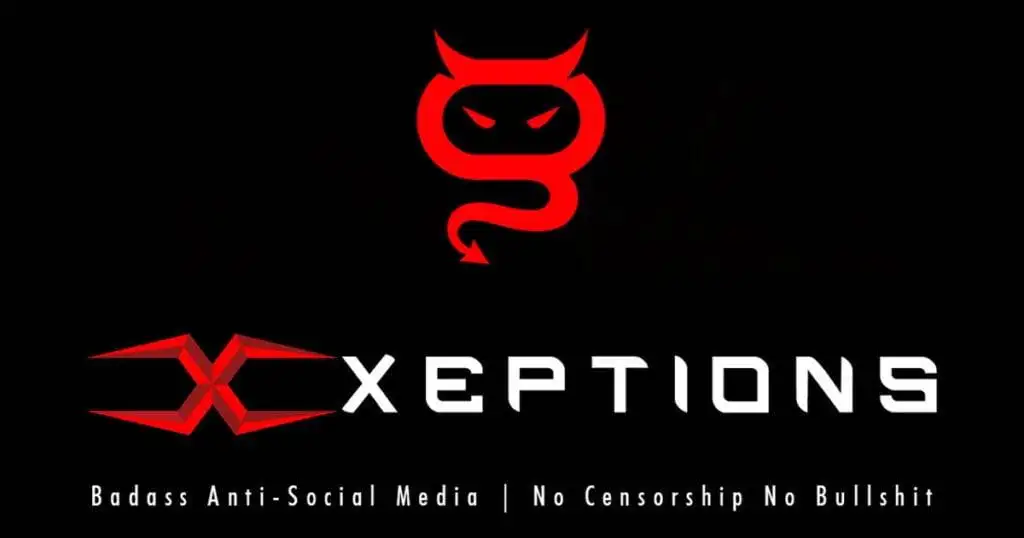 If you're tired of Social Media's abusive Censorship…
JOIN XEPTIONS, THE BADASS ANTI-SOCIAL MEDIA
Tired of social media's abusive censorship? Join Xeptions and create your free profile on the leading anti-social media platform for free-thinkers and open-minded adults. Experience no censorship and no nonsense!
As we become increasingly connected to our devices, our social lives have shifted online. Xeptions allows you to have the best of both worlds under one roof, without the risk of unwanted viewers, including children and employers. Share your thoughts, sexuality, and interests freely, without restrictions or judgment, while respecting the X-Community's members.
Our mission is to provide open-minded and consenting individuals with a censorship-free community, empowering them to connect with other free-thinkers who share their beliefs and allowing them to share content that they can't on mainstream social media. By joining Xeptions, you'll have the freedom to interact with like-minded individuals in a respectful, non-judgmental community.
Our philosophy is built on connecting people with similar interests and allowing them to share their views without censorship. It's crucial to remember that we prioritize respect for every member of our community, without discrimination or negativity, but with acceptance and unity.
CONSENTING ADULTS CONTENT
In our society, individuals who express certain opinions, discuss specific subjects or openly express their sexuality are often treated as second-class citizens. Despite numerous efforts, no causal link between exposure to sexually explicit material and destructive behaviour has been scientifically established. Unfortunately, censorship based on moral grounds continues to exist as a remnant of our nation's Puritan heritage.
Calls for censorship today are not motivated solely by morality and taste. They also stem from the belief that exposure to sexually explicit images leads to harmful behaviour. Pro-censorship forces, including politicians, often cite scientific studies to support their point. However, such studies are often unreliable or misrepresented.
As free thinkers, we believe in and strive for a world of liberty where individuals are sovereign over their own lives and values. We consider respect for individual rights to be the essential precondition for a free and prosperous world.
We defend the right of our community members to engage in any adult activity that is legal, peaceful, and honest. Adults have the right to make decisions about their own bodies and minds, and no individual, group, or government has the right to violate these rights. Individuals have the freedom and responsibility to choose what they knowingly and voluntarily consume and share.
We support full freedom of expression and oppose government censorship, regulation, or control of communication media and technology. We welcome the diversity that freedom brings. We aspire to create a world where consenting adults are free to pursue their dreams in their own way, without censorship.
CONSUME AND SHARE FREELY WITHOUT CENSORSHIP
At Xeptions, we believe that sharing your unique and awesome content without censorship will help you get the attention, comments, and proposals you deserve.
Whether you're looking for virtual or in-real-life relationships or friendships, Xeptions is the perfect platform for you to share everything you want, from sexy to explicit pictures and videos. We accept all kinds of content without judgment or discrimination, as long as it is legal.
We strongly believe that true freedom comes from within. At Xeptions, we strive to maintain a positive and supportive environment where individuals can express themselves freely and without fear of censorship.
PERSONAL IDENTIFICATION INFORMATION
At Xeptions, we may collect personal identification information from users in connection with the activities, services, features, or resources we make available on our site. Users can visit our site anonymously, and we will only collect personal identification information from users if they voluntarily submit it to us. However, please note that refusing to supply personal identification information may prevent users from engaging in certain site-related activities.
We are committed to complying with the Personal Information Protection and Electronic Documents Act (PIPEDA), which requires us to provide our privacy policy to users upon request.
CONTACTING US
If you have any questions about our Privacy Policy or the practices of our site, please feel free to contact us at support@xeptions.com, and we'll be happy to answer any questions you might have!
We kindly ask that you take the time to read our Terms and Conditions & Privacy Policy. All of Xeptions' properties, products, and services are offered subject to these terms and conditions. Once you have read and understood our policies, you are welcome to join our exclusive and unique censorship-free adult-only community by registering on our site and creating your badass profile

Join Xeptions Today!
REGISTRATION IMPORTANT INFORMATION
After you register, you will receive a validation email. You must reply to this email to activate your profile. If you haven't received this email, please check your spam folder. If you are certain that you haven't received the validation email, don't hesitate to contact us at support@xeptions.com
Please note that all persons under the age of 18 are strictly prohibited from accessing or viewing the content of this site.
If you have any additional questions please feel free to visit our FAQ page: https://www.xeptions.com/x-faq-help/
This document was last updated on April 30th, 2023